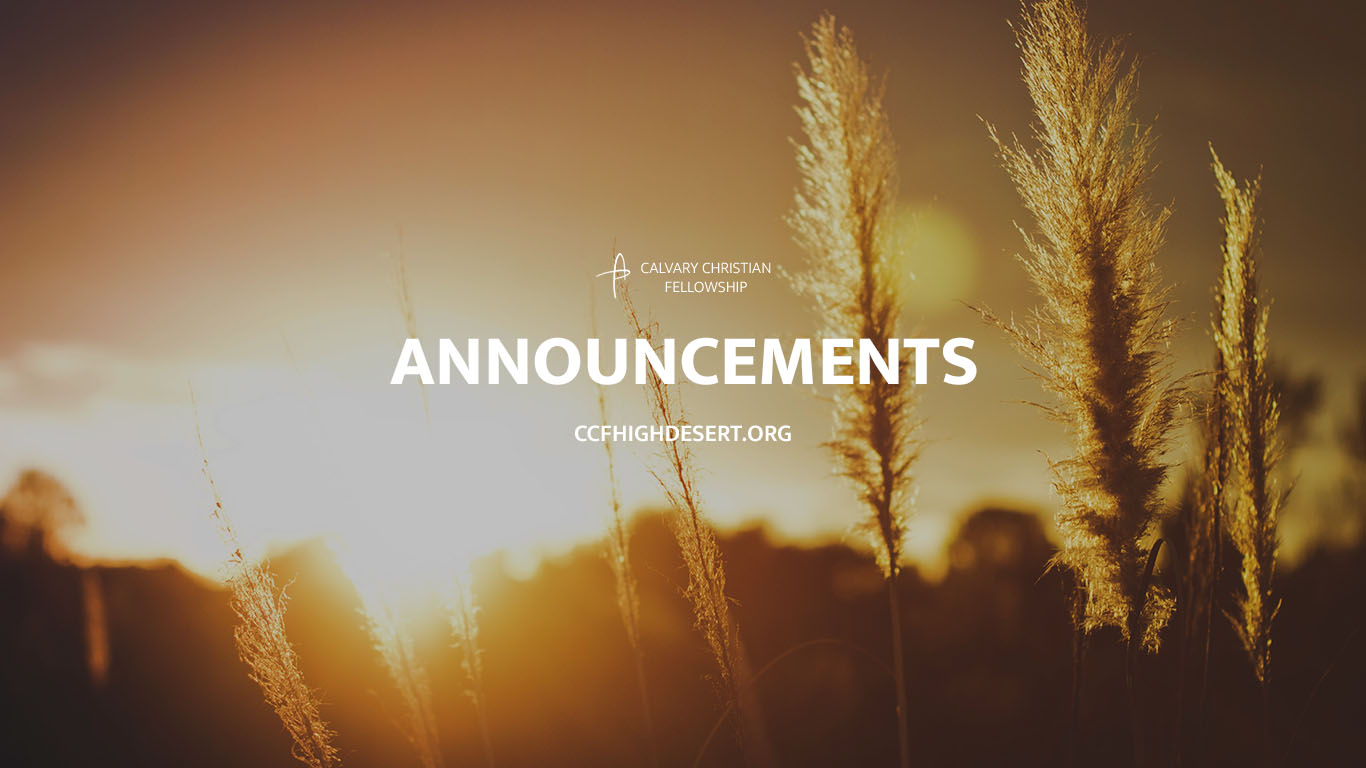 Coronavirus Update
March 14, 2020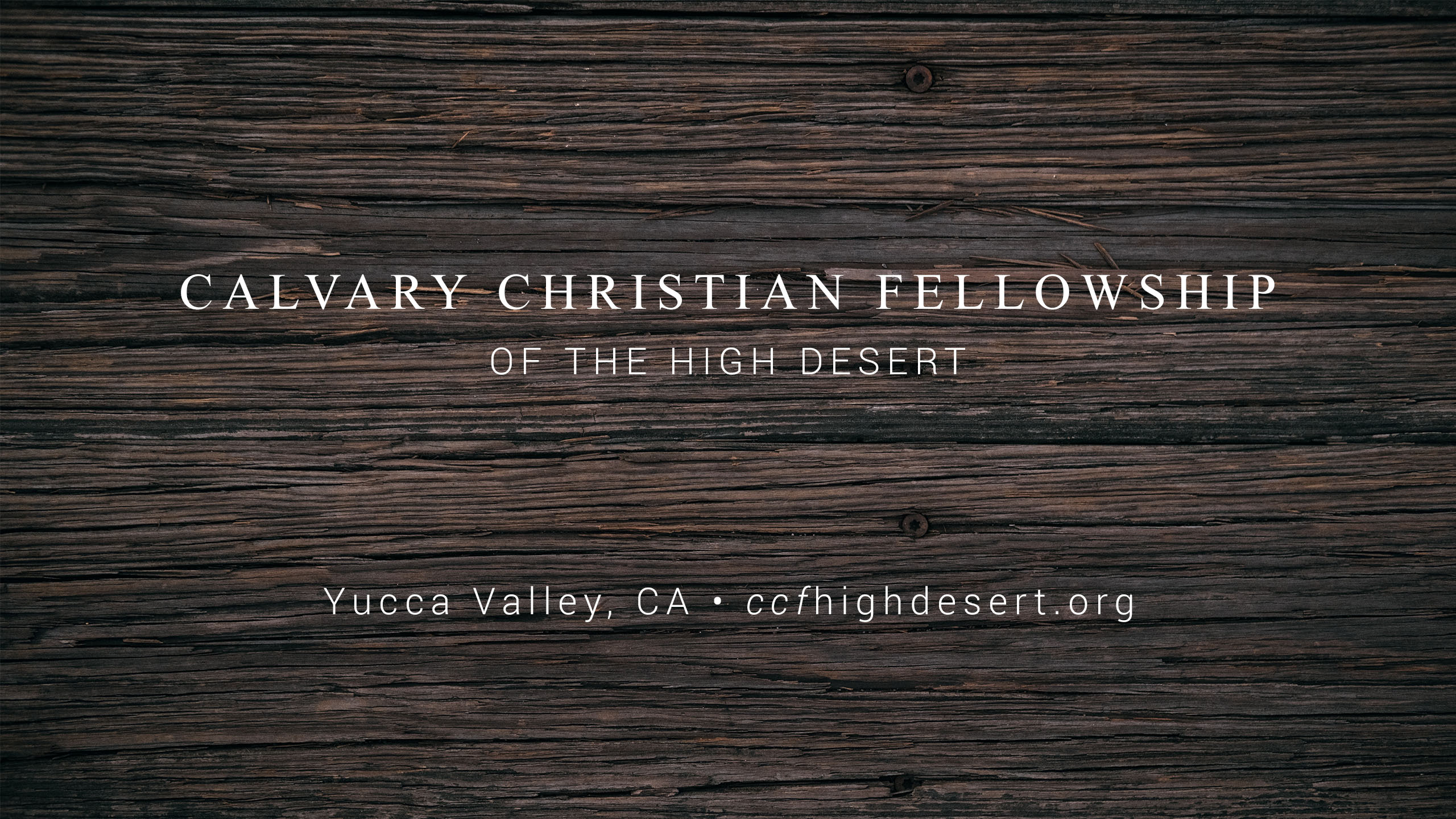 Stop Worrying
March 25, 2020
Hello Calvary Christian Fellowship,
With the recent events surrounding the Coronavirus, aka Covid 19, we just wanted to reach out from a medical perspective from your loving sisters in Christ. This is a long read, but I pray you take the time to read through it. Thank you for your patience.
Here at CCF, we would like to encourage the church to follow the recommendations set forth by the Centers for Disease Control. A few things you can do to protect yourself in the coming days/weeks are:
Wash your hands with soap and water frequently. This includes washing your hands both before and after using the restroom, before and after handling food, after driving your vehicle (steering wheels are one the most bacteria ridden places, usually housing more bacteria than a public toilet), after leaving the house and when returning home, and after using gasoline pumps.
Avoid touching your face. You have heard this covered in the news for good reason, touching our face makes it easier for viruses to travel to our respiratory tracts. This may be a bad habit of yours, but just be mindful, wash your face after you catch yourself touching it.
If you are sick, stay home.
Replace your toothbrush after recovering from illness.
Wipe down the things you use frequently with disinfecting wipes or a mixture made of 4 teaspoons of bleach to one quart (4 cups) of water. The CDC recommends washing these things with soap and water before applying sanitizer solutions for maximum effect. Things you should be washing are your TV remote, your car keys, your cell phone and computers/laptops and the outside of your purse, paying special attention to the bottom where us ladies tend to set it down on places such as floors and car floorboards.
Watch for signs and symptoms of illness, if you have a cough or a fever >100.4, it is advised that you stay home. Do not leave the house, stay home and treat your symptoms with over the counter medicines if you have them. If not, you can make a few home remedies such as hot tea with honey and lemon for cough. You can even take those old candy canes you may have from Christmas time and put that into a cup of hot water to make a homemade peppermint tea to help with cough. There is speculation that NSAIDs such as aspirin and ibuprofen worsen symptoms, there is no evidence to fully support this at the time of this newsletter, but for precautions sake, please choose Tylenol/Acetaminophen for fever if you have the option.  But most importantly stay home for 14 days from the onset of symptoms. This protects you and the community. If you begin experiencing symptoms of coronavirus and you are afraid and/or scared, please call 211 from your phone for support 24/7 and contact someone you know in the church. We are here to help. Us ladies, Rhonda and Betsy, would be willing to come to your house if you need anything during a shut in. I am certain if we reach out to the church body there are others willing to do the same.
If you are having more severe symptoms, including shortness of breath, please call 911. The protocols for how the hospitals are responding to this are changing daily, sometimes hourly, so in an effort to keep this newsletter current, we recommend calling 911 for the quickest response in an emergency. Let the dispatch know if you have traveled or been in contact with someone who is known to have Covid 19.
Drink plenty of water and take vitamins containing Zinc and Vitamin C if you have them. Airborne and Emergen-C are good also. If you do not have these items and cannot afford them or find them at the stores, just do the best you can by eating as healthy as possible. These are just "extra" things you can do but aren't mandatory in preventing the spread of the virus. Some people recommend drinking 2 tablespoons of apple cider vinegar in a glass of water in lieu of taking vitamins if you do not have any.
Try to get some exercise in! Many people across the nation are being told more and more about how much less they are allowed to do! Do not become stagnant. Use this as an opportunity to get some exercise in. Even just walking in place and doing a few jumping jacks can help. We do not need to be extreme weightlifters to be active. There are free videos on YouTube for yoga and exercise from home. Simply type in Covid 19 At Home Workouts and an abundance of videos will pop up.
Whatever you do, don't panic! We will get through this! There is a 97% survival rate for this illness. The media has spread fear and has lost hope, but remember, God did not give us a spirit of fear, but of power, love and a sound mind! Even if you end up contracting Covid 19, there is no need to panic. There is an abundance of resources and almost everyone is living to tell about it!
Keeping yourself healthy physically, emotionally and spiritually are vital to overcoming this. Read your Bible and trust that God has a plan! Pastor Tye will be covering the biblical aspect of this outbreak, so stay tuned! We have included some helpful links at the bottom of the newsletter. Most importantly, we are here for you. If you have needs, please reach out. If you need toiletries, food or help with your medications, please contact the church office at 760.364.1990. We are in this together.
Payin' It Forward Food Ministries is on as scheduled for the third Friday of every month. Karen is working closely with the county and FIND Food bank to make sure we are meeting certain criteria. Things are very limited. They will be having a "drive- thru" type of distribution. If you do not have a vehicle, please contact Karen directly and she will work with you to get what you need. There are many people in the church that want to help.
Thank you all for your prayers and patience as this situation unfolds. Please refer to the CDC website www.cdc.gov for the most up to date information.
The image of remaining calm as Christians is so important right now! What better hope can we give others by remaining calm in the recent events! Be prepared to tell others why you are so calm! Our hope is in Jesus!
'Let your gentleness be known to all men. The Lord is at hand.' Philippians 4:5
For we have no power against this great multitude that is coming against us; nor do we know what to do, but our eyes are upon You. 2 Chronicles 20:12
With love in Christ,
Rhonda & Betsy
Please find below some trusted resources on the Covid 19 situation, including the Centers for Disease Control, the World Health Organization, 211 San Bernardino (which you can visit online or call from any phone by dialing 211) and the San Bernardino County Department of Public Health
https://www.cdc.gov/coronavirus/2019-ncov/symptoms-testing/index.html
https://211sb.org/coronavirus-covid-19-general-information-for-san-bernardino-county/
https://www.who.int/emergencies/diseases/novel-coronavirus-2019/advice-for-public/myth-busters
http://wp.sbcounty.gov/dph/coronavirus/
Some ideas from the Yucca Valley Chamber of Commerce:
IDEAS FOR YOUR BUSINESS: Offer Curbside Services and/or Delivery. Offer online shopping and shipping. Go digital with meetings – apps like ZOOM and more. Go social – share what your business is doing differently. Stay social – connect with the community here and often be human – not a logo, not a sale, share your encouragement and care. Share resources with other businesses! That could be hand sanitizer or staff or ice … or recipes! Check in with your staff and their families often. Double check your security systems. If slow: begin to work on a recovery strategy plan, touch your SOPs, policies and procedures, business plans, marketing plans, employee handbooks, clean up databases, take webinars and classes from You Tube, read on a new subject.
JOBS: If you have people looking for work, we recommend applying at Grocery Stores, gas stations, Fast food restaurants with drive thru. Costco/Sam's Clubs. Media – TV stations. Refinancing Services. Assisted Living/Home Care – other medical, pharmacy